Combined Dashboard Networks
Last updated
"Combined Networks" are a view in Dashboard that allows for easy configuration and monitoring of multiple Dashboard networks. For customers that have a combination of Meraki devices in the same physical network topology, we recommend combining the individual Dashboard networks into one combined network to simplify management and monitoring. This allows easier access to cross-device menus and functions without needing to switch networks.
Why Combine Networks
Traditionally Dashboard networks are made up of one type of device; each device type is configured independently and displayed as separate networks in the Dashboard. In order to simplify configuration and monitoring, combining Dashboard networks that are part of the same physical network topology would improve workflow.
Combined networks is the first tool that enables centralized configuration and management for different types of Cisco Meraki devices. The new Network wide setting menu is a great place to perform configuration and reporting for all the devices in the entire network. This feature allows for:
Unified event monitoring for all devices
Centralized alerts & administration
Centralized reporting of clients on the network
Network-wide configuration
Unified Event Monitoring for all devices
The Event log for MR, MS, MX, and SM are all located on one page for the whole network. Using the filter menu once in the event log will swap between each device type.
Centralized Alerts & Administration
There is now a single configuration pane for all Alerts and Administration for combined networks. Network Administrations can be given the Full Control or Read Only permissions for the combined network. These permissions apply to all types of devices within the combined network. A centralized Guest Ambassador is also configured here to manage Guest user authorization on the combined network:
All of the alerts and monitoring is also configured network wide. The traditional alerts of individual networks can be configured for the combined network: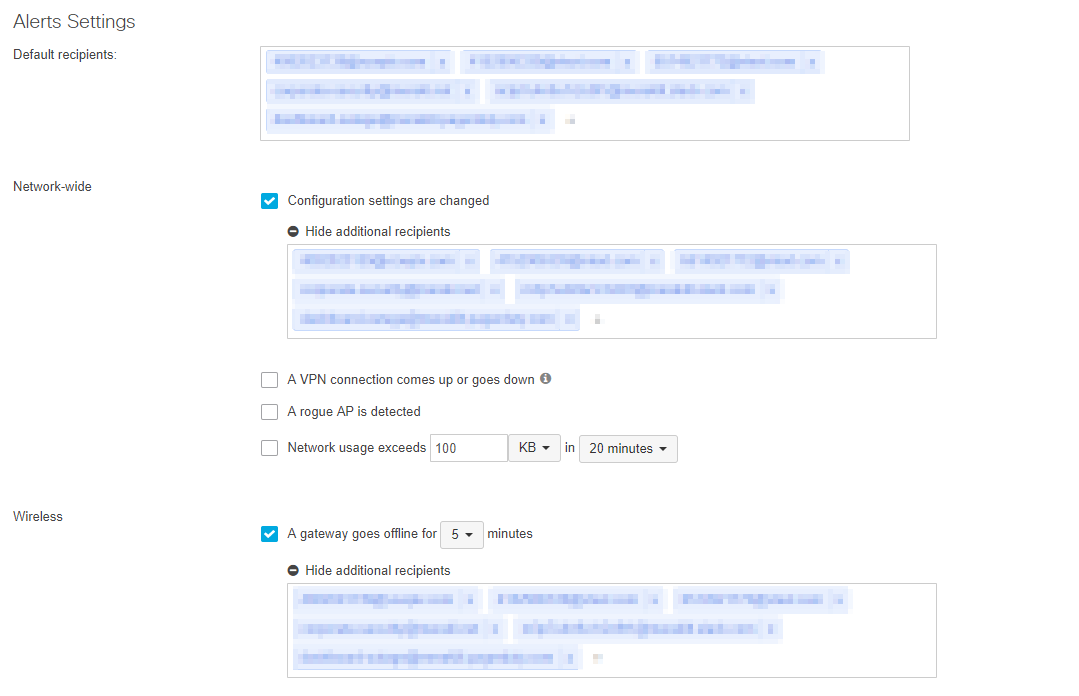 Centralized Client Reporting
Combined networks allows you to easily see all of the clients that are accessing the network from one page. You can filter the clients by "only appliance clients", "only access point clients", and "only switch clients" to filter the clients by what type of Cisco Meraki device the client is utilizing. The built-in client filters also will filter what clients are on what SSID:
Each client is given a status which reflects its current or last known connection:
Network-wide Configuration
Group Policies and Authorized Wireless Users are now configured in the network wide menu. Many of the common settings that would be applied on a per network basis are now incorporated into the network wide configuration in the general configuration page. These include settings for:
Network name
Local time zone
Traffic analysis
Presence
Cloud Shark
Device configuration
Reporting
Firmware upgrades
Status & APIs
Network Topology Map
Combined networks are also able to make full use of the Network Topology Map feature. This allows administrators to see a graphic overview of the logical network topology and the status of any devices.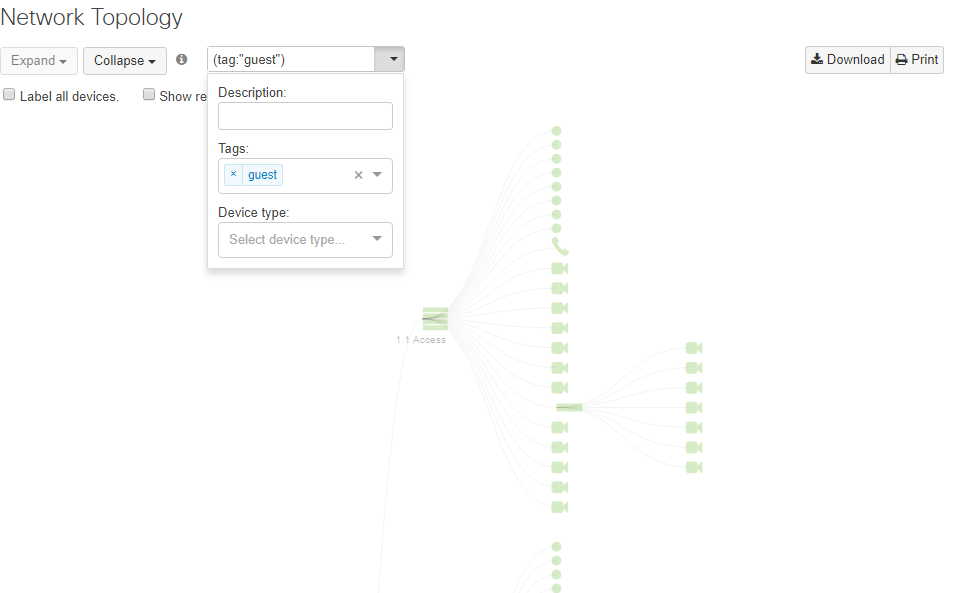 Example Scenario
For larger organizations with multiple locations that each have a full stack of Meraki devices, there can be many different Dashboard networks for each physical location. Naming the Dashboard Networks has been the traditional way to identify locations and what Dashboard Networks belong to which location. Converting each location into a combined network will organize the Dashboard Network list and simplify what devices are at what location. Please note that VPN concentrator networks would have to remain in the Dashboard network list.
How to Combine Networks
Only one network of each type can be combined. For example, multiple wireless networks cannot be combined with other networks. An administrator would need to move all wireless devices into a single wireless network prior to the combination. The same applies for multiple switch networks, all devices would need to be moved into a single switch network. Only one MX can be added to a Combined network.
Note: Client tracking by IP is not supported in combined networks. To combine an MX network that is currently tracking clients by IP, switch it first to Track clients by MAC address or Unique client identifier under Security Appliance > Configure > Addressing and VLANs before proceeding.
Note: Though wireless Security Appliances and Z1 Teleworker Gateways can be added to a combined network, they will not be capable of meshing with MR Access Points. Some aspects of the client experience, such as roaming, may be negatively affected by this network configuration.
When ready to combine networks, navigate to Organization > Overview and in the right-hand map legend, press the arrow button to expand. Check the boxes next to the networks you would like to combine into one and click the combine button:
You can also convert an existing network or create a new combined network from the Organization > Inventory page. Select all of the devices that you would like in a network and they will be automatically be placed in a combined network:
Below is a common example of combined Dashboard networks:
Splitting Combined Networks
You can split a combined network without the intervention of support. Navigate to Organization > Overview and expand the networks list. Check the box next to the combined network and then click the split button.
Note: There are some instances where splitting a combined Dashboard network is not possible:
If the network is owned by a user with billing payouts on a billing SSID.
If the node group is configured for prepaid card billing network.
If Client tracking is configured for Unique client identifier (Security & SD-WAN > Addressing & VLANs).