Meraki Go - Web Portal
Last updated
Overview
The Meraki Go Web Portal is designed for users to claim subscription keys and provide basic account information.
Navigating the Web Portal
Login or create a new account to access the portal.
Select your account name in the top right corner of the portal to reach any pages referenced below.
Get the App
Provides links and a QR code to reach app stores for downloading the Meraki Go app to your mobile device.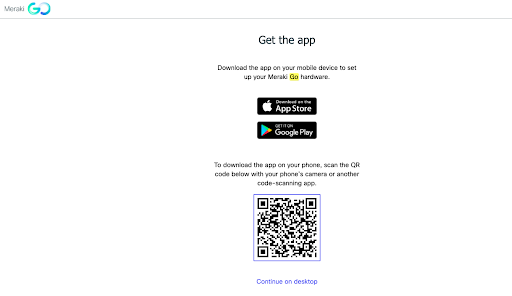 View Products
Displays products claimed and associated with the current Meraki Go account. You will use this page to claim any additional Meraki Go subscription keys purchased.
This also serves as the home page upon logging into the Meraki Go Web Portal.
Additional Subscriptions
As of October 7th, 2019, Meraki Go devices do not require subscription keys to operate.
The Meraki Go security appliance offers an optional Cisco Umbrella Security Subscription. This is available for purchase through Meraki Go authorized resellers and must be claimed into the web portal for this feature to be activated.
To claim your subscription key for this feature, select + Add Subscription and enter the 12 digit alpha-numeric code to activate it.
Edit Account
Provides the capability to change account details such as name, email, password and company name. The company name serves as the Meraki Go organization name.
Contact Support
Provides a form used to create and submit a support request to Meraki Go Technical Support.