Web Search Filtering and its Effect on Google Apps and Google Search
Last updated
This article addresses the Web search filtering feature available on the Cisco Meraki MX Security Appliance and how this feature could affect Google applications.
Web Search Filtering
MX Security Appliances have the option to force all web searches to use Web search filtering. This feature can be enabled on the Security & SD-WAN > Configure > Content filtering page in Dashboard. Once enabled, Web search filtering is accomplished by rewriting every search URL. For Google searches, our rewrite follows the method outlined on their page on SafeSearch Lock.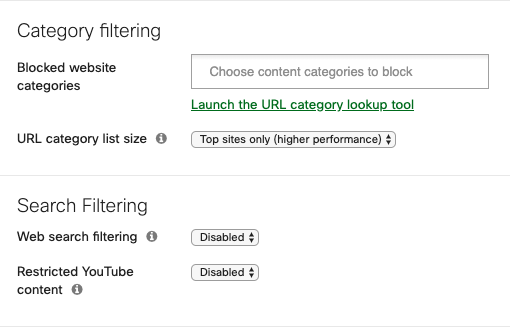 Because Web search filtering enforcement relies on modifying the HTTP transmission, this feature does not work on encrypted web content (SSL/HTTPS). This impacts search engines that force queries to use HTTPS, including Google.
Additional Resources
Information on this feature and other content filtering options can be found in our documentation.