How to Contact Cisco+ Secure Connect Support
Last updated
Overview
Cisco+ Secure Connect Support is available 24x7 to customers who subscribe to the product.
Once the product has been activated in the Meraki Dashboard, an additional section named Secure Connect will be presented on the left pane.
Email Support
1. In the Meraki Dashboard, under Secure Connect, navigate to any of the pages under the product. The Support link is available in the top right of the page. Click on it and a pop-up will appear.
2. Some links on Secure Connect pages will redirect to the Umbrella Dashboard, in which case, the Secure Connect Support button is available on the left pane. Similarly, click on it and a pop-up will appear.
3. In the pop-up, ensure that the Related to field is set to Cisco+ Secure Connect for the case to be assigned to the dedicated Secure Connect support team.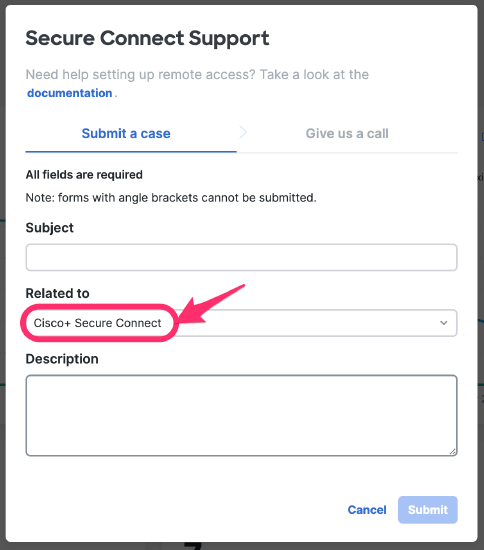 4. For the Description section, please the "What to Include in a Support Case" section below.
5. Click "Submit" after all fields have been populated.
Phone Support
For urgent or immediate support, we recommend calling the support number which is presented in the second tab of the pop-up.
If it is related to an existing support case, please enter the case number when prompted. Otherwise, please enter your customer number.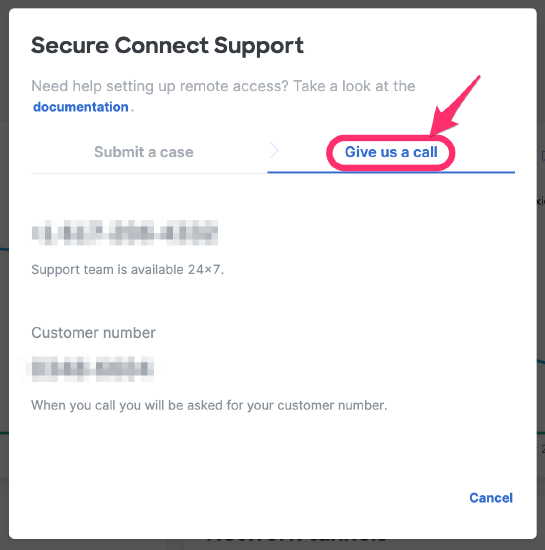 What to Include in a Support Case
When contacting Support through the email or phone please provided as much information as possible to help promptly diagnose and resolve the issue. Below are examples of the type of information the support team will request.
A description of the issue
Umbrella Organization ID (Click here to learn how to find your Umbrella Organization ID)
Affected hub-site(s) or spoke(s)
Screenshot of error message or logs
When the issue started
Was the setup working previously
Were there any changes in the environment before the issue started
Are all users impacted or a subset of users
Is the issue impacting all devices, or a specific device type or operating system
Is the issue reproducible
Does the issue happen at certain intervals or at random times
If a packet capture has been taken and uploaded, what are the client and server IP addresses
Other relevant information not mentioned above