MT12 Datasheet - Water Detection
Last updated
MT12 Sensors
Cloud-Managed Sensors that help you have complete visibility across your business environment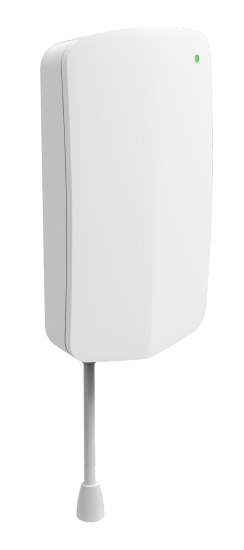 Overview
Businesses need a complete view of data to make sound decisions. Businesses need to have visibility into their network availability metrics, capex & opex, and customer satisfaction levels to deliver on their mission. While businesses have a good grip on embracing and utilizing data in the business world, they are yet to fully visualize the physical world.
Current solutions are complicated to install, do not scale and are difficult to use. Hence businesses do not have a simple and reliable way to have visibility into their critical assets to maximize their network uptimes, reduce equipment failure, reduce unnecessary site visits, and deliver best-in-class customer service.
So, Meraki is introducing a range of sensors to prevent loss and increase operational efficiency with ease. Our sensors are simple, scalable and secure. Our sensors also connect to the dashboard using the MV/MR which removes the need for expensive gateways. Customers can now gain real-time visibility into their critical business environment form a single pane of glass.
CLOUD MANAGED SENSORS
INDUSTRY LEADING CLOUD MANAGEMENT

The Cisco Meraki MT12 sensors provide water presence monitoring for network closets across industries using BLE (Bluetooth Low Energy) beacons on the MR and MV.

The sensor can detect the presence of at least 3 mL of water

Our sensors are built from the ground up to be easy to manage without compromising on power and flexibility

All Meraki sensors are managed through an elegant, intuitive cloud-based interface

Meraki's centralized management gives administrators granular visibility into their network

Cloud management has a number of benefits that make it easier to build networks large and small:

Automatic alerts based on customizable thresholds through SMS, Email and Mobile push notifications

Enterprise-grade security which the Cisco Trustworthy Systems seal of approval

Role-based administration

Firmware upgrades and enhancements from the Meraki cloud

Zero-touch provisioning for rapid deployment across sites
Product Highlights
Single pane of glass for all your networking needs (Camera, IoT, etc)
Always-on real-time visibility (24/7/365 visibility)

Flexible alert management

Peel & Stick installation

Provision multiple sensors in minutes

Simple to set up reporting and configuration
Technical Specifications
Sensors
| | |
| --- | --- |
| Water Leak | Detect the presence of at least 3 mL of water making contact with the cable or cradle |
Wireless Capabilities
| | |
| --- | --- |
| Bluetooth 4.2 Low Energy BLE | Automatically detects and connects to the MV/MR* gateway |
| Operating Frequency | 2.400–2.4835 GHz |
| IEEE Standard | 802.15.1 (BLE 4.2) |
Data Logging
Data polling frequency

Event Driven

Wake up every 20 minutes to report

Onboard data storage
4000 data points
Security
Secure BLE messaging using LTK(Long-Term Key)
Physical Characteristics
Dimensions
117.1(L)X65.9(W)x 26.0(H)mm
Weight (excluding batteries)
113g
Protection
IPX5 Rated
Battery Compartment
2xAA Battery with upto 5 year battery life
Operating Environment

Temperature: 0°C - 55°C (32F - 131F)

Relative Humidity: 0 - 95% RH
Hardware

Multicolor, multifunction status LED

General purpose button

Reset button

USB-C port

Water Leak Detection Plug(Female)

Warranty
3 Years
Ordering Information
| | |
| --- | --- |
| Meraki MT Water Leak Sensor | MT12-HW |
| Water Leak Detection Cable(8 ft / 2.4m) | MA-CBL-LEAK-1 |
| Spot Leak Detection Cradle | MA-CBL-LEAK-2 |
| LIC-MT-XY | Meraki Things Enterprise License (X = 1, 3, 5, 7, 10 years) |
MA-CBL-LEAK-1 and MA-CBL-LEAK-2 are sold separately, but at least one is required for operation.
In the Box
| | |
| --- | --- |
| Unit | MT12-HW |
| Guides | QIGs |
| Battery | 2 AA Batteries |
| Mounting equipment | Backplate, Mounting magnet, 3M tape, 2 Mounting Screws, 2 drywall anchors, 1 security screw, 8 cable clips |