SecureX Device Insights with Meraki Systems Manager
Last updated

Cisco SecureX delivers a consistent experience across your all of your products. Get unified visibility, intuitive automation, and robust security for your entire security portfolio in one place. Meraki Systems Manager has unique integrations with the Cisco SecureX portal to send Systems Manager MDM device information to SecureX via the Device Insights module. This allows Systems Manager MDM information to live along side other products and for administrators to have deeper insights than they could have with MDM alone. For more information and learn how to get started with SecureX, click here.
Meraki Systems Manager setup for SecureX
1. Setup your Cisco SecureX account and then navigate to Integration Modules and add Device Insights.
Integration Modules > Available Integration Modules > Device Insights
2. After Device Insights module is added. Add the Meraki Systems Manager module.
You will then be prompted to add the an Integration Module Name, API Key, and Network ID.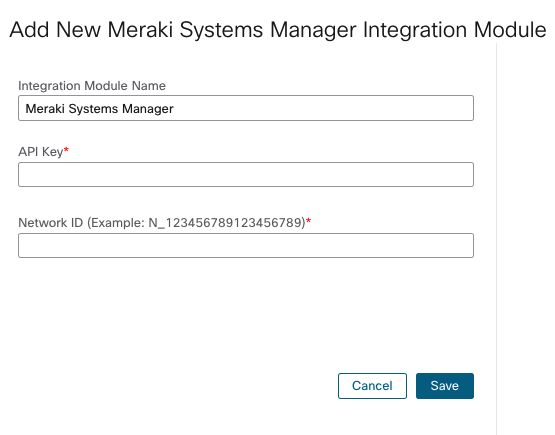 3. In the Integration Module Name add a name for the Systems Manager network.
4. In the API Key section, add a Meraki API Key. You can create a Meraki API key in a few clicks by following these steps.
5. In the Network ID section, add the Systems Manager Network ID from your SM network.
The Systems Manager Network ID can be located in Systems Manager > Configure > General.
6. Click Save, to save the Systems Manager integration module into SecureX.
When finished, navigate to the Insights tab, and you will be able to view an overview of your Device Insights information together in one place (Systems Manager + all other Device Insights modules added together).