Event Search on Vision Portal (BETA)
Last updated
Available via the Meraki Early Access Program!
Access by going to Meraki Dashboard -> Organization -> Configure -> Early Access
Overview
This feature provides a quick seamless way to investigate video via camera selection, object detection, and duration filters. Tracking down unknown persons or cars causing accidents was never made easier!
With v1.7.6 (check under What's New on the Vision Portal) a user will now be able to view an Event Search tab on the Vision Portal. This tab will help users investigate historical videos on up to 4 MV cameras in one go!
This will be visible on ALL networks and in line with permissions as described below, under Main Features.
This feature will not be available on Dashboard.
Features
ALL new motion search for up to

4 cameras

on your network
Narrow down searches by filtering for vehicles or person
Define Region of interests (ROI)'s on all chosen cameras
Preset filters for up to 3 days
Permissions:
All network, org, and camera admins will be able to use this feature
Navigation
Event Search tab will be located below the Exports tab on the Vision Portal
Motion search popovers on the camera page and the video wall page will take you here! It will limit the selection to 4 cameras when driven from the video wall page.
Filters
Pick Cameras

A user can select upto

4 cameras

from their current network
User can also draw Region of Interests - areas around which motion would like to be observed to ignore the noise
Pick a time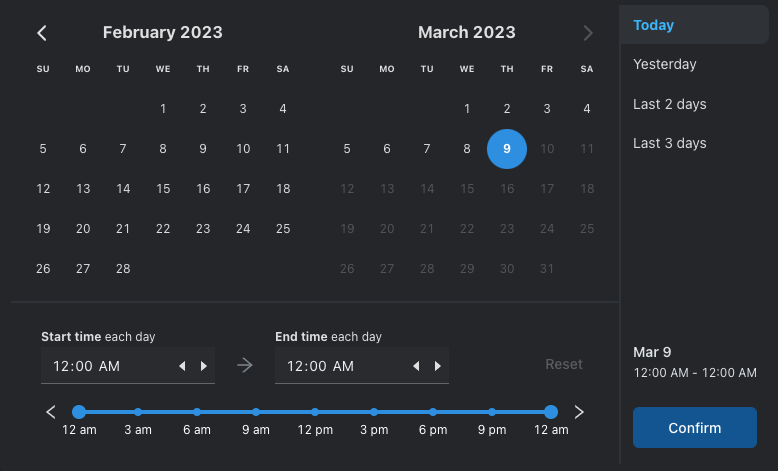 A user can:
Pick presets:

Select "Today", "Yesterday" or "Last 2,3 days"

Pick a day:

Pick a day or range of a

maximum of 3 days

by clicking on the blue circles on the dates provided

To pick a time:

Click on the slider and use the arrows to increase/decrease time by 6 hours on either side
Type in a time by clicking on the numbers

Reset it all
Default view: Present day and last 24 hours (12 AM start of the day to 12 AM end of the day) in your Network set timezone
Pick Objects
This will work on ONLY Generation 2 and 3 cameras
This will work on ONLY cameras that have object detection models enabled under the Sense tab on dashboard (default is Body+Vehicle)
People

Shows results only when a person-like structure is detected

Vehicle

Shows results only when a vehicle-like structure is detected
When BOTH filters are detected, this will behave like an AND operation and show you results that apply both filters
Pick Min Event Length
This will help users narrow down results for motion that were captured for a long time vs a very short duration
View Results
Based on the selection, a set of results will open up categorized into chunks of single dates
A user can see more results as they keep scrolling through the page
A user can always use the drop-down icon next to the date to load results for the next day
Depending on the amount of motion seen by the selected cameras, filtered results will show up
The duration of these clips will vary between a 1 second to even a minute (Video images for live-only MV2s)

People and Vehicle Filters will work as long as:

ONLY Generation 2 and 3 cameras

ONLY cameras that have object detection models enabled under the Sense tab on the dashboard (default is Body)

Each video clip can be opened to play, click on feed to view to navigate to the camera page for an enlarged view, or even exported to saved video and downloaded as an image too
FAQ
How do I change my timezone?

Contact your network admin to update the network timezone

For False positives on people/vehicle filters know that our camera intelligence modeling gets better with every new generation of our cameras, best on our latest Gen 3 MV 63 and MV 93. We're actively working on making this experience better! Participate in our intelligent training to help make this even more accurate. You can sign up via this banner that would show up on your network OR by going to Configure -> Intelligence Training.
For feedback or suggestions, please reach out to us using the Feedback tool at the top of the Vision Portal. For technical issues, please contact Meraki Support.