EBGP
On the Security Appliance > Configure > Site-to-site VPN settings page, BGP configuration is available for one-armed VPN concentrator MXs. When BGP is toggled to enabled, BGP neighbors can be configured.
To configure an EBGP neighbor, click "Add a BGP neighbor." Then, configure the Neighbor IP and Remote AS.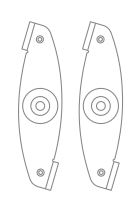 The BGP neighbor must be configured to peer with the one-armed VPN concentrator using its WAN1 IP and the organization-wide VPN BGP AS number.
If the one-armed VPN concentrator is deployed in a warm spare (high availability) configuration, the virtual IP (vIP) will be used instead of the WAN1 IP address.
Default Update and Timeout Timers
The MX attempts to negotiate its hold time/update time at 240 seconds and its keep-alive time at 80 seconds. These timers get negotiated down to the lowest value between the pair, depending on what the other side of the EBGP pair has set. If the non-MX side of the pair is set for 180/60, the MX will negotiate down to 180/60. If the non-MX side is set for 300/100, the non-MX side will negotiate down to 240/80.