Deploying OS Updates with Systems Manager
Last updated
Systems Manager can deploy operating system updates to iOS 9+ devices which are not configured to use Single App mode and macOS 10.11+ devices on either an individual client basis or in bulk via a command on the Devices List. The OS Update command will cause the device to download the update and will prompt the user to "Update Now" or delay the update.
MDM OS Update Commands are only available for Supervised 10.3+ iOS devices, or DEP enrolled and pushed Macs. iOS devices older than 10.3 will require DEP-supervision specifically.
Updating on a Per-Client Basis (iOS)
Updates can be deployed to individual iOS clients via a Live Tool on the Client Details Page: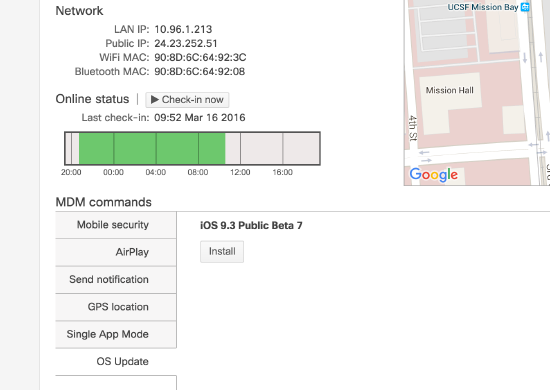 Updating Multiple Clients
Multiple clients can be commanded to update via the Command dropdown on the Client List page. Select the clients which you wish to update and select "Install available OS updates" from the Command drop-down menu:
Delaying OS Updates
On iOS 11.3+ and macOS 10.13.4+ devices, it is also possible to delay available OS update prompts to the end user for up to 90 days. This is configured in the 'Restrictions' payload found in Systems Manager > Manage > Settings.