Meraki Go - Unable to find Gateway
Last updated
How to fix unable to find gateway to the internet, and what causes this alert on Meraki Go hardware.
Overview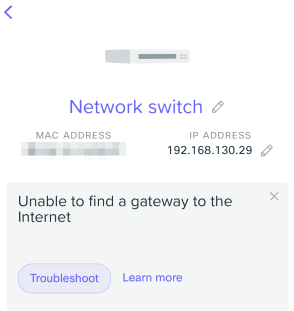 This alert commonly occurs on access points or the GR products. The following requirements are necessary to cause this alert:
The GR has no gateway or IP address assigned (and cannot find one automatically with DHCP).
The GR has meshed to a nearby access point to inform you of this error (not service clients).
How to Troubleshoot
Check the cable is working. Sometimes a damaged cable may just deliver power.
If using PoE, try using the power adapter instead as a test.
Ensure the device has a working and valid IP address from the DHCP server. If using a static IP, check and make sure this IP address works on a laptop as well. If not, the static IP information is likely incorrect and needs to be updated.