Meraki Go - Using DHCP IP address from wrong VLAN
Last updated
When Meraki Go hardware has an alert regarding DHCP IP address from the wrong VLAN, and how to fix the issue.
Overview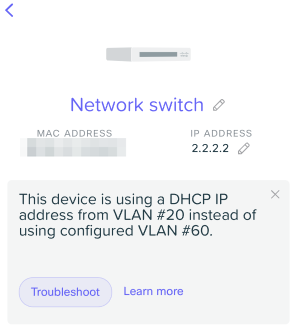 Any Meraki Go hardware may alert with this message. When there is an IP addressing issue, a Meraki Go device will attempt to find another working IP address via DHCP on other networks (or VLANs). The alert is caused when:
A VLAN tag is set for DHCP, and DHCP IP assignment fails with that VLAN.
An incorrect static IP is assigned to the hardware, and it reverted to DHCP as a backup.
How to Troubleshoot
This error only presents itself when there is a bad configuration on the device for the IP address. Double check the settings for the IP address are correct, or opt to update the settings to match the network the device found that had working IP address assignment (in this example, that was VLAN 20).