Viewing your Switches
Last updated
Switch connectivity state is displayed using one of the status color icons below: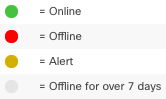 A connectivity time bar graph will also be displayed for each switch which allows for you to see the connection state of each switch over the past 24 hours. You can easily add or remove columns by selecting the plus icon at the top right corner of the screen.

From this view, you can also apply several actions to all of the switches in the network by selecting one or more switches and choosing one of the actions at the top:
Tags
Tags are labels that can be applied to one or more switches in order to categorize them. For more information about Tags, visit Using Tags.
Assign IP
This action will allow for you to assign a static IP address to one or more switches by specifying an IP address range and providing the subnet mask, default gateway and DNS server addresses. This option requires that the switch(es) are online and connected to dashboard.
Move
The Move action will allow for you to move and/or remove one or more switches from the current dashboard network.
Clone
The Clone action is very powerful allows users to copy the existing configuration of another switch is the Organization to one or more selected switches.
Here is an example of a clone operation being performed on several switches simultaneously. Please note that the switches are not required to be online to perform this action but will need to communicate with the Meraki cloud to download their latest configuration data.
What will this copy?

This will copy all of the switch port configuration, link aggregates, access policies (if from another network), mirrored ports, and RSTP bridge priority from the switch chosen above onto the each of the switches selected.