PoE Support on MS Switches
Last updated
Learn more with this free online training course on the Meraki Learning Hub:
Sign in with your Cisco SSO or create a free account to start training.
The IEEE 802.3af (PoE) standard supports the delivery of power over Ethernet up to 15.4W per port that may be used to deliver power to a variety of devices. However, only 12.95W is assured to be available at the powered device as some power is dissipated in the cable as overhead.
The IEEE 802.3at (PoE+) standard supports up to 25.5W of power on the ports, allowing devices that require more than 15.4W to power on when connected to the PoE+ ports.
802.3bt is a standardization of UPOE that introduces support for up to 60W of power on a switchport using all 4 pairs for power, allowing devices that require more than 25.5W to power on when connected. (802.3bt is enabled by default on MS390 UPOE Models starting with MS15).
MS-Supported Protocols
The MS series supports current-based PoE classification. Layer 2 (LLDP/CDP) is also supported on switches with newer firmware.
To ensure that you are using the latest stable firmware version, please refer to our Firmware FAQ for instructions.
Current Classification
Based on the classification current used by the device, the MS switch will classify the device as a Class 0, 1, 2, 3 or 4 type device and apply the proper standards-defined behaviors to the port.
Table 1 - Power levels available
Class
Usage
Classification current
[mA]
Power range
[Watt]
Class description
0
Default
0–4
0.44–12.94
Classification unimplemented
1
Optional
9–12
0.44–3.84
Very Low power
2
Optional
17–20
3.84–6.49
Low power
3
Optional
26–30
6.49–12.95
Mid power
4
Valid for 802.3at (Type 2) devices,
not allowed for 802.3af devices
36–44
12.95–25.50
High power
PoE Power Budgeting
Meraki switches will budget based on the PoE device classification, the budget is allowed to exceed available power as it's used to gauge overall power that might be consumed on the switch. Devices will continue to be powered until total power consumption goes over the available amount of power.** In this case the lowest port numbers take precedence and power will be pulled from the highest ports thus denying them power.
For more information on the available PoE budget per MS model, please see the MS Family Datasheet.
For more information on PoE budgeting with the combined power mode, please see Combined Power on MS Devices.
** For MS390 switches, once total power requested goes over the available amount of power, new devices will be denied power. MS390 Power Options and Specifications can be found on the MS390 datasheet
Monitoring PoE on Dashboard
When PoE devices are connected to the ports of the MS PoE switches, the ports on the switches are labeled with a lightning bolt. This symbol indicates that power from these interfaces is being supplied from the switch (PSE) to the powered device(s) (PD). See an example below: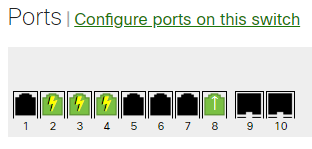 PoE consumption on the switch can be monitored live, including both a consumption and budgeting value as well as port-specific information. For more information on available PoE budget, please see the MS Family Datasheet.
PoE Underload Alerts
A PoE underload event occurs when a PoE power consuming device uses less power than the specification allows for a long enough period of time. This can happen if a PoE device is not operating correctly or if a device powers down too slowly.