Introduction
This article goes through some best practices in viewing video on MV cameras including how to use digital zoom, keyboard shortcuts, and jump between timestamps.
Navigation
You can navigate to different timestamps in a few ways:
Timeline Bar
Click anywhere on the timeline bar to navigate to that timestamp.
You can navigate forward and backward in time by:

Clicking and dragging the timeline bar
Using a touchpad to scroll forward and backward while hovering over the timeline
Clicking the left or right arrows that appear when hovering at either end of the timeline

You can expand or limit the time range on the timeline bar by:

Using the "+" or "-" buttons to the right of the timeline
Motion Events on the Timeline Bar
When interacting with these motion event blocks on the timeline, we provide ease-of-navigation information in a number of ways.
Zoomed Out (>2hr on timeline): Motion Event Blocks
When zoomed out beyond a 2hr view for the timeline, the motion event blocks are shown for up to a range of two weeks. Zooming into a 2hr or less region on the timeline will make the motion event blocks interactive, as discussed in the following section.
Zoomed In (<=2hr on timeline) : Interactive Motion Event Blocks with Motion Intensity
When you are zoomed in to see two hours or less on the timeline, you can see individual motion blocks (shown here in orange) that correspond to motion events. These are the same events that show up as Motion Search results. These motion event blocks are also colored with a gradient that represents the overall intensity of motion observed for that event.
On each motion bar, you can see:
Event time - When did the event occur?
Event duration - How long did it occur?
Event intensity - How much of the frame did it cover?
Motion Recap image summarizing the event (Read more for: What is a Motion Recap image?)
Blue Bar indicating Current Highlighted Motion Event
Whenever you hover over a motion event block OR the associated Motion Recap event while doing Motion Search, both will be highlighted in blue to easily locate.
Blue Bar Outline indicating Last Selected Motion Event
Whenever you select a motion event block OR the associated Motion Recap event, both will be highlighted in dark blue to easily locate, even when playback continues beyond.
Grey Bar indicating Motion Events that do not meet Motion Search Criteria
When you perform a motion search, all events that meet the search criteria (region of interest, sensitivity, event length, and filtering for events with people) will show as orange. However, any motion events that do not meet this criteria will show as grey motion event bars.
Day Selector (with Natural Language Processing)
You can select the date in this calendar here, or type a time period using natural language. Examples of natural language are:
"5pm yesterday"
"2 hours ago"
"last Friday"
"Now" Button
Quickly view the current timestamp by clicking on the "Now" button.
Rewind / Forward Ten Seconds
Note that you can only use these buttons on stored video.
Rewind / Forward One Frame
Similarly, you can only use these buttons on stored video. Additionally, you can only go forward or backward one frame when the video is paused.
Increase Playback Speed
Dashboard UI
You can click on this button while in local streaming to increase playback speed by x2, x4 or x8.
Keyboard Shortcuts
Pressing 1, 2, and 3 on your keyboard can also increase the playback speed.
Digital Zoom
You can use your scrollbar or mouse to zoom in and out of the video. When using the MV32 fisheye, zooming in will automatically switch the video to a dewarped view, after which you can zoom in up to 12x as in any MV.
For more information on digital pan-tilt-zoom (DPTZ) on fisheye cameras, refer to this article.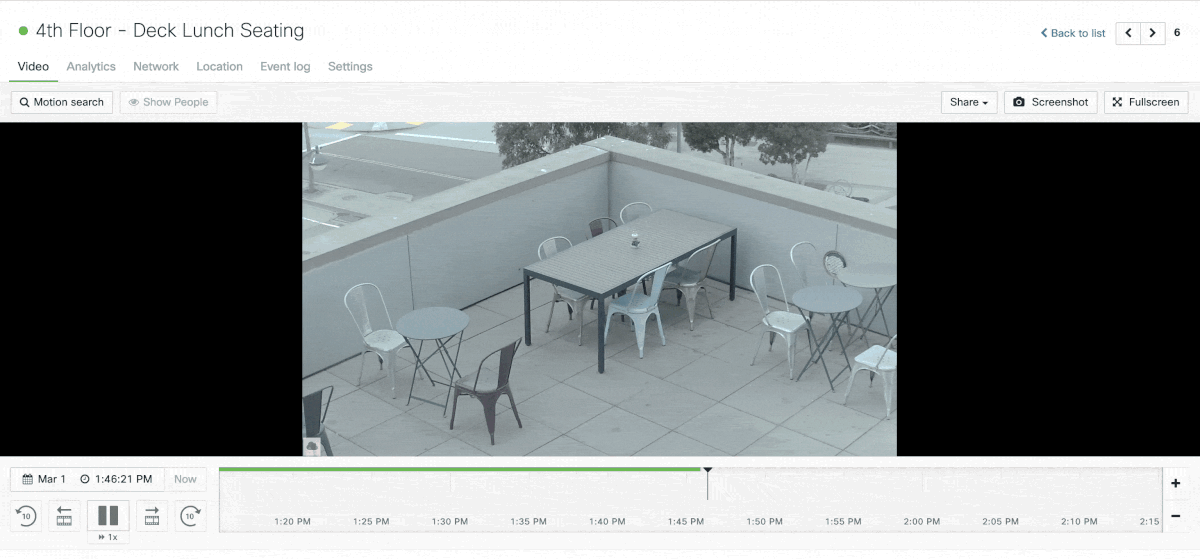 Digital Zoom is currently unavailable on Firefox.