Cellular Gateway (MG) Firmware Features Directory
Last updated
Overview
We have gotten feedback that it is hard to understand what features and capabilities exist for each of our MGs on specific firmware versions. This is meant to be a launching off point for what features exist for which firmware and hardware.
Note: All products have a minimum runnable firmware version and eventually every product will have a maximum runnable firmware version.
Please refer to Product Firmware Version Restrictions for more information.
Firmware Branching Strategy
Different deployments and organizations have different focus on their strategy towards 'only running stable code' versus being open and willing to try our latest features is how we landed on providing three firmware release branches: Stable, Stable Release Candidate, and Beta. There are times were you may see more than one version listed under a branch of firmware. These patch versions provide patches such as issues found in firmware or security fixes and would not include new features.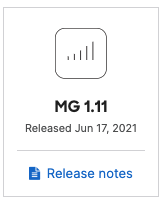 Note:
MG 3.100 is the current beta release for MG51/MG41/MG21 and MG51E/MG41E/MG21E models.

The MG51 and MG51E models cannot run MG 1.11 or MG 2.0 firmwares

MG 2.0 is the current stable release for MG41 and MG41E models.

The MG41 and MG41E models cannot run MG 1.11 firmware

MG 1.11 is the current stable release for MG21 and MG21E models.

The MG21 and MG21E models cannot run MG 2.0 firmware.
MG firmware's will be consolidated a future upcoming release (TBD). At such time all MG models will have the capability to run the same firmware revision.
Stable Release Candidate - MG Firmware Features