Meraki Go - Configuration is out of date
Last updated
How to troubleshoot Meraki Go out of date configuration alerts.
Overview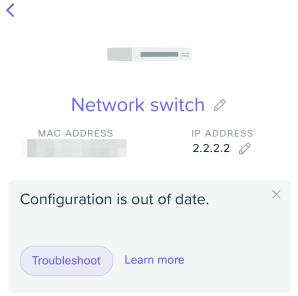 Similar to the alert unable to fetch configuration, any device facing this behavior is unable to update its configuration. Symptoms of this problem include changes not taking place on the Meraki Go hardware, such as setting a new WiFi password but the old password is still being used.
How to Troubleshoot
Before contacting support, there are a few things to try to resolve this error:
Give the alert at least 5 minutes to go away naturally. In this time, check to see if any changes to the network are taking hold. For example, change the password on a wireless network and see if a phone can associate with the new password.
Try rebooting the device. In some cases this can resolve a configuration fetch issue.
If possible, try a different connection to the internet to rule out an upstream network problem.
If the above fails, open a support case for further assistance.