Meraki Go - Firmware version does not match
Last updated
Fixing firmware version issues on the Meraki Go hardware.
Overview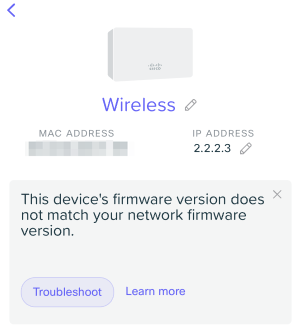 When software updates (or firmware upgrades) occur, not all of them go smoothly. If a device fails to upgrade, the Meraki Go app will notice the difference in the version set for the device versus what version is actually installed and running.
How to Troubleshoot
Software updates fail for the same reasons common downloads fail. When an internet connection is either slow or facing problems (like high latency or packet loss), a software update might fail. This will cause the upgrade to be rescheduled and the device will try again later.
Here are some steps to take if this problem occurs:
Wait 30 minutes. Sometimes a firmware download can take a while on a slow connection, and if it fails when the speeds are low it can take even longer.
Reboot the hardware. This will reset any wait period before trying the software update again.
If waiting and rebooting the hardware do not resolve the error message, please contact support in the app by opening a case.