Systems Manager Installation using Active Directory GPO
Last updated
In large environments, it isn't time efficient to install software on individual PCs one at a time. In order to perform tasks like deploying the Systems Manager agent in bulk, administrators of Windows environments with Active Directory can make use of Active Directory Group Policy Objects to administratively push software out to a large number of devices.
For more information on GPOs, requirements, and any Microsoft or Active Directory questions, please consult Microsoft's documentation for software installation using Active Directory GPO.
This article will cover the steps required in a typical Active Directory environment to push out the System Manager client for Windows to devices across an AD domain.
1. Choose your Systems Manager network from the Network drop-down, then go to Systems Manager > Add devices > Windows.
2. Download the Windows installer image by clicking on the Download link and saving the .msi file to the Desktop
3. Move the .msi file to a shared location; in this example, it's a "Software" folder on a file server.
4. Start the Group Policy Management tool.
5. Navigate to [your_company_name]-Computers, right-click, and choose "Create a GPO in this domain and link it here..."
6. Give the GPO a name, for example "systems manager" or "Meraki Systems Manager"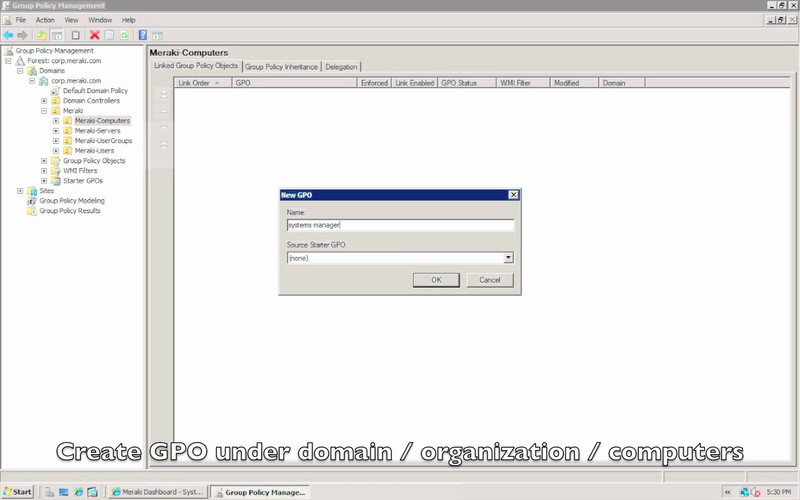 7. Under "Group Policy Objects", find the GPO you created, right-click on it, and choose "Edit..."
8. In the window that pops up, navigate to "Computer Configuration" to "Policies" to "Software Installation"; right-click it and choose "New" and "Package..."
9. Browse to- or type the full path of the .msi package on the share.
10. In the "Deploy Software" window that pops up, leave the setting option to "Assigned".
11. Right-click the entry you created and enable "Enforced"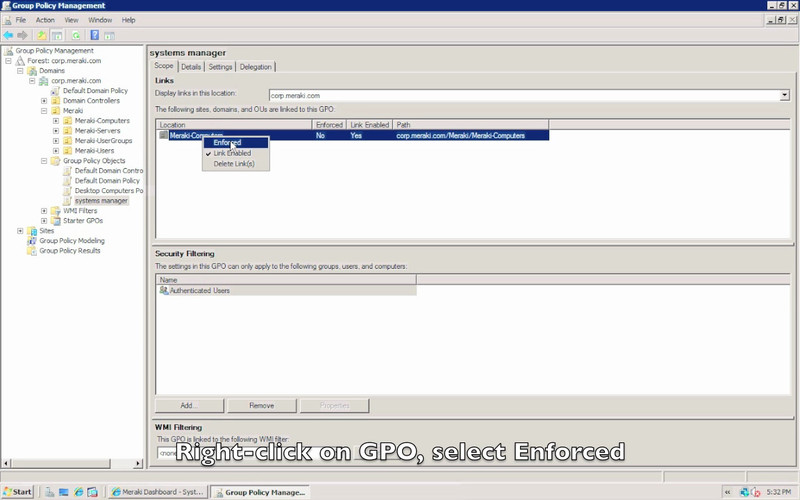 12. Start a shell by clicking on the Start button (then "Run..." on some versions of Windows") and typing "cmd".
13. In the cmd shell that pops up, type "gpupdate /force"
14. Wait until gpupdate completes. You are done.