Windows Enrollment
Last updated
On-device Enrollment
If you have a Dashboard account set up with an EMM network, you can find instructions under Systems Manager > Manage > Add devices, or follow along the steps below.
Note that there are two methods for Windows installation: Agent or Profile. Either one can be used for enrollment, but since each enables a different subset of features, both should be utilized when possible to access all available MDM features.
Profile installation is only supported on Windows 10 and only on non-Legacy Systems Manager accounts. Other Windows desktop versions, and Legacy customers will need to use the agent installation.
Agent Installation
It is important to note that an agent installer package is network specific, meaning you must use an install package downloaded directly from the Systems Manager network from which you wish to manage your clients. In addition, Systems Manager software must be installed with local administrator privileges as applicable by the device type.
Download the Agent Installer
In Dashboard, navigate to Systems Manager > Manage > Add devices > Windows. Click the Download button. MerakiPCCAgent.msi should begin downloading.
The installer can also be reached by navigating to m.meraki.com, entering the 10-digit network ID found in Dashboard, and downloading the agent there.
Note that this installer will enroll devices into the Systems Manager network it was downloaded from.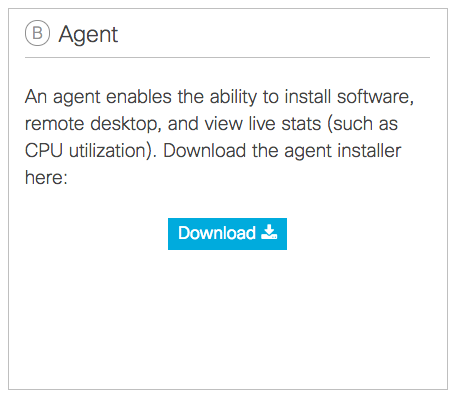 Run the Agent Installer
After the installer finishes downloading, double-click MerakiPCCAgent.msi and click Run when prompted.
Accept the Licensing Agreement and click Install.
Once the Systems Manager Agent has finished installing, your Windows device will show up under Monitor > Clients in Dashboard as soon as it has an Internet connection.
Profile Installation
Open Work Access Settings
Navigate to Systems Manager > Manage > Add devices > Windows.
Option 1: From the device, you wish to enroll, navigate to m.meraki.com, and enter the 10-digit network id found in Dashboard.Click the 'Open workplace settings' link to open the Work Access settings page. The agent can be downloaded from this page as well.
Option 2: In Windows settings, navigate to 'Settings > Accounts > Access work or school.' You can also search 'Connect to work or school' in your Windows menu to find the below page.
On native Windows 10, click 'Enroll only in device management'.
Enter an email address and click Next.
Note: Any email can be entered here, as it is not used to authenticate the enrollment. If your organization has InTune bundled in with your Office365 or Azure instance, do not enter a domain-joined email, as it will begin enrollment into InTune instead of prompting for your server information to complete the following steps.
In the Server box, enter your server URL (check your browser URL while signed into Dashboard, e.g. n155.meraki.com), and click Connect or Continue.
Enter your network ID, where XXX-XXX-XXXX is the network-specific ID.
Click register. You should see a message that the device is 'Connected to Systems Manager' as below. The device will automatically synchronize with the Meraki Cloud and appear in the client list.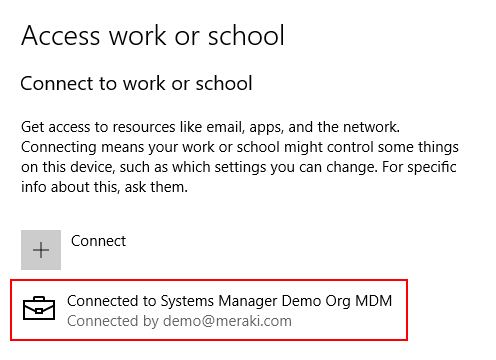 Additional Enrollment Methods
SM Sentry Enrollment SSID
You can also use SM Sentry to force iOS, Android, Windows, and Mac devices to enroll in Systems Manager for an efficient mass deployment or BYOD. When enabled on a given SSID for a Cisco Meraki wireless AP, Sentry facilitates the secure and rapid onboarding and deployment of SM to mobile devices. For more information on Systems Manager Sentry enrollment, please visit the following page.