Apple Automated Device Enrollment (ADE)
Last updated
Note: Apple Automated Device Enrollment (ADE) was formerly known as Apple Device Enrollment Program (DEP). ADE and DEP may be used interchangable in documentation, and ADE and DEP should be treated as the same things.
The Apple Automated Device Enrollment (ADE) allows administrators to pre-provision iOS, iPadOS, and macOS devices to automatically self-enroll into Systems Manager before even touching them, and provides an additional level of management control through bulk device supervision. This greatly simplifies adding and deploying iOS, iPadOS, macOS, and tvOS devices with Automatic Device Enrollment into Meraki Systems Manager. This article will cover how to use the Apple Automatic Device Enrollment with System Manager.
For additional information on ADE, including how to qualify for the program, please review Apple's official deployment guide. Additional information can be found directly from Apple Business Manager portal or Apple School Manager portal.
Linking Systems Manager to Apple ADE
In order to use the Apple ADE with Systems Manager, a Systems Manager deployment must be linked to an organization within ADE. These steps assume an Apple ID for the organization has already been created, as outlined in the Device Enrollment Program Guide. You can also use Apple Business Manager portal or Apple School Manager portal for the same functionality.
In Dashboard, create an EMM network for Systems Manager.

Navigate to Organization > Configure > MDM, then scroll down to Apple ADE Servers.

Click on + Add new and download the Meraki_Apple_DEP_cert.pem file provided.

If someone has downloaded the .pem file previously, and the server token has expired, click clear token in order to download the .pem file again.

In another browser window, go to the Apple Business Manager or Apple School Manager portal and sign in with the Apple ID tied to the desired organization.

Click your name at the bottom left of the window, then click Preferences

Click the + (plus) icon next to "Your MDM Servers"

Enter a Name for the MDM server in ADE, then click Next.

Click Choose File... and upload the .pem public key downloaded in step 3, then click Next.

Download the server token provided, then click Done.

Back in Dashboard, click on the Drag and drop ADE server token here button in the ADE section.

Select/upload the server token downloaded in step 9.

Choose the default Systems Manager network where devices tied to this MDM server in DEP will be enrolled.

Click Save Changes.
If you encounter an error uploading the server token to Dashboard, make sure that the file name ends in 'smime.p7m' without any trailing characters like '(1)' that may appear from downloading multiple copies of the file.
The last downloaded DEP token on the Apple portal is the only one that MDMs can sync with. You may see error "Sync failed: Unable to connect to Apple's servers at this time." or "Sync failed. Please try again later." in the event that the current token is unable to sync. The Apple portal shows the following warning if someone tries to download a token twice: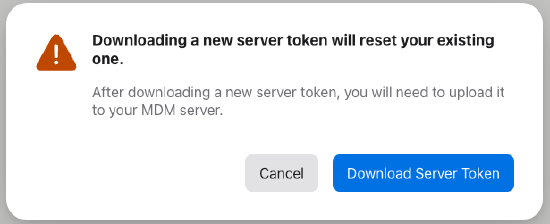 In this case, the token would need to be renewed again in order to continue syncing with Meraki Systems Manager.
Renewing a ADE Token
Apple ADE tokens last for one year by design. To continue enrolling via ADE:
In your Meraki Dashboard navigate to Organization > MDM and click on the Apple ADE Server you want to renew. In the Add ADE Server window press Update Token.





Then, press download your public key cert to download the Meraki_Apple_DEP_cert.pem file.



Log in to the Apple Business Manager or Apple School Manager portal.

Click your name at the bottom left of the window, then click Preferences

Scoll down to MDM Servers, then Click on the MDM server to renew ("Meraki MDM" in the screenshot below).

Click on Edit and then click on Upload New...


Upload the Meraki_Apple_DEP_cert.pem file and click Apply to save. Then press on Download Token to download the Meraki_Token_smime.p7m file.


Now back in your Meraki Dashboard upload the Meraki_Token_smime.p7m file to Meraki to finish updating your DEP token.



After this process is finished, the token is valid for another 365 days.
If the existing ADE token is cleared or the ADE server is deleted instead of renewing the token, all associated ADE settings profiles will be removed from the Systems Manager > ADE page and will have to be re-created manually.
Importing Devices
Devices purchased with your Apple Customer Number or Reseller Number appear automatically in Apple Business Manager. You can also manually add devices you own using Apple Configurator. Reference to Apple Business Manager User Guide.
To sync the devices from your Apple ADE server into System Manager, there are two ways.
Navigate to Systems Manager > Manage > ADE, this will cause a partial sync between System Manager and Apple ADE server.

If devices are missing, you can try a full sync by clicking on the full sync button in the top right of the page.
Note: To be eligible, devices must have been purchased directly from Apple within the last three years, or through participating resellers and carriers. This requirement will be changing with iOS 11, which will allow users to add iOS or iPadOS devices from any purchaser into DEP. For more information regarding this and supported countries, please refer to Apple's Device Enrollment Program page.
iOS 11+ devices can be added into an existing ADE account through Apple Configurator on macOS, even if it was not purchased from Apple or an Apple reseller. For steps on how to do this, see this article.
And on macOS devices with Apple Silicon, add them to your organization's ADE account with an iOS device running the Apple Configurator app. More information here.
Applying Settings to Devices
ADE settings are applied during setup assistant, either upon setting up the device for the first time, or after a factory reset for devices already in use.
ADE Enrollment Status
There are 3 states for the 'ADE enrollment' status column. If you've just synced your devices from the ADE server into Systems Manager, they will be labeled 'Empty'.
Empty: The default state when devices are first synced from ADE into Systems Manager. This means that the device has no ADE settings assigned to them.

Assigned: This means new ADE settings have been assigned to the device, but not yet applied. Upon initial setup, or after a factory reset, the applied settings will take effect.

Pushed: This means the device has its ADE settings applied. You can see information on what settings were pushed, and when, on the other columns of the table.
NOTE: ADE Push status is only related to Device Enrollment status, and does not strictly determine it. This means that you may have devices which show their ADE payloads as 'Empty' which have already been enrolled (and therefore, have a valid link to their Device Details page in the Name column), and devices which show their ADE payloads as 'Pushed' but have yet to complete enrollment (most often because they stopped at the authentication step).
Assigning Settings
After devices have been assigned to Systems Manager via ADE, they will automatically be enrolled in the default Systems Manager network upon setup. Additional configurations such as supervising the device or skipping setup steps will further customize and streamline your deployment.
Navigate to Systems Manager > Manage > ADE within the Systems Manager network.

Click the checkbox next to any devices that require settings be applied.

Click Assign settings.


If you have existing setting profile created, select it from the dropdown. Otherwise, create a new one and complete the fields/selections that appear in the setup: